½ cup ketchup
4 teaspoons soy sauce
½ teaspoon salt
2 tablespoons worcestershire sauce
3 tablespoons sugar
1 ½ teaspoons sesame oil
¼ teaspoon cayenne pepper
½ cup chicken broth
2 tablespoons cornstarch
½ teaspoon sugar
¼ teaspoon salt
3 whole chicken breasts, cut into bite size pieces or 1 package chicken tenders, cut into bite size pieces
¼ cup cooking oil
2 tablespoons fresh ginger root, minced
1 tablespoon minced garlic
1 onion, chopped
1 can water chestnuts, drained and coarsely chopped
1 can bamboo shoots, drained and sliced
1 ½ cups cashews
2 cups cooked white rice
Combine ketchup, soy sauce, salt, Worcestershire sauce, sugar, sesame oil, cayenne pepper, and chicken broth and set aside.
In a bowl, combine cornstarch, sugar, and salt. Toss the chicken with cornstarch mixture. Heat a wok or frying pan to a high heat and add cooking oil. When oil is hot add chicken. Add ginger root, garlic and onion.
Stir fry mixture until chicken is cooked through and opaque. Add bamboo shoots and water chestnuts. Add ketchup/soy sauce mixture to chicken and vegetables and cook until it comes to a boil.
Cool, bag and freeze. Save cashews for serving.
Thaw bag in fridge overnight. Reheat over medium heat until just boiling. Add cashews. Serve over rice.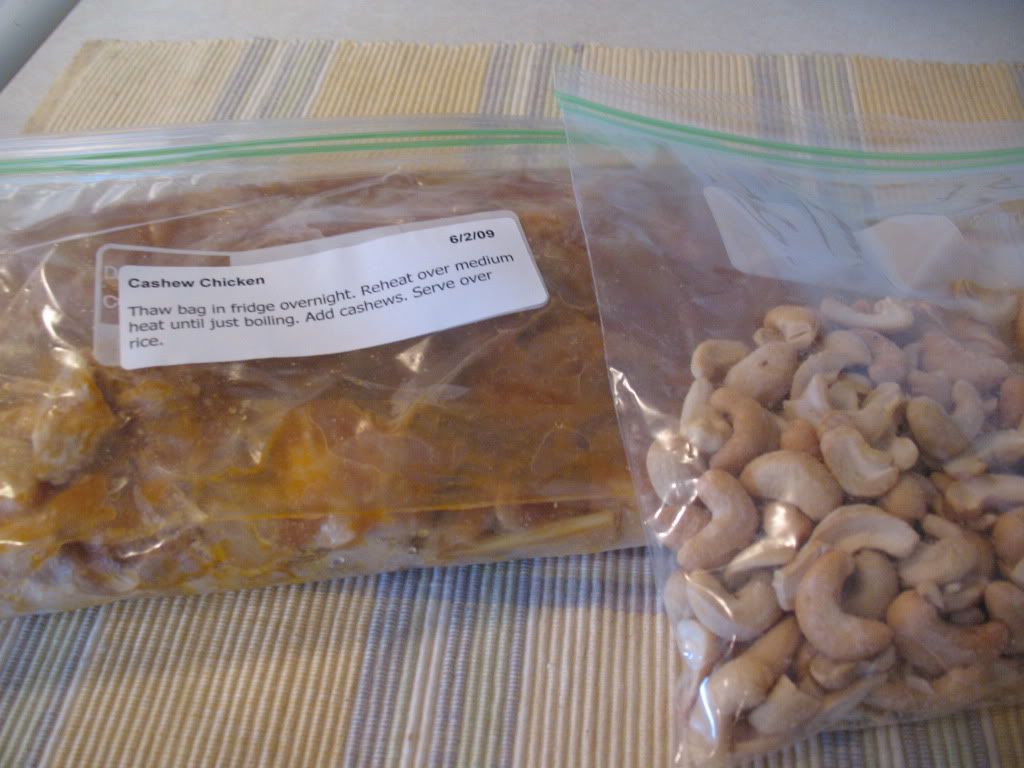 I added carrots and green peppers when I made this for my family
The Freezer Chicks
provide us with yet another
recipe
.